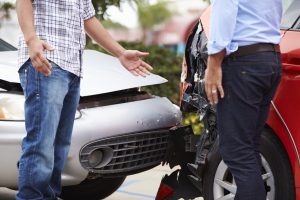 Unfortunately, auto accidents happen even to the most careful drivers on the road. According to the Kentucky DOT there were over 158,000 accidents in the last year in this state alone. These accidents often result in property damage and bodily injuries. Determining who is at fault is the next issue. Here are some ways liability is determined in Kentucky.
No Fault Accident State
The first thing you need to know about car accidents in this state is it is a choice no-fault state. What this means can be a little confusing to most. When buying your insurance policy, you will have a choice between no-fault and fault based. If you choose a no-fault policy, this means that if you are involved in an accident, you will turn any damages into your own insurance for compensation regardless of whether you or the other party were at fault. There are some cases where you can go to the other persons insurance with a claim, but certain guidelines have to be met in order to do so.
Here are those guidelines…
The accident has to have a minimum of $1000.00 in medical bills.
The accident would have had to have caused permanent disfigurement, fracture of a weight-bearing bone, compound, compressed, or displaced fracture of any bone, any permanent personal injury, or permanent loss of bodily function.
What If I Choose Fault Based?
You can opt out of no-fault insurance, but not without restrictions. If you choose this option, then the policyholder has the right to file a legal liability claim against the driver who is at fault. This is where determining liability is imperative.
Here are some ways this can be determined…
 Gathering evidence such as video surveillance or photos; as well as speaking to any witnesses from the scene

 Reviewing the accident report from the police

Obtaining any information from cell phones or your vehicles "black box"
There is also a total amount of insurance that policyholders must carry in order to opt out of the no-fault system.
This includes minimum coverage as follows…
    $10,000 PIP coverage
    $25,000 for injuries for a single person
    $50,000 for all injuries in the accident
    $10,000 for property damage resulting from the accident
Working with a law firm can be very beneficial when filing a fault-based claim in Kentucky.
Contact (859-746-0500) Michael O'Hara, PLLC for a Consultation
—
About Michael A. O'Hara, PLLC
When you have to deal with the justice system – whether related to a civil or criminal matter – you need more than the truth on your side. You need a skilled attorney who can employ sound legal strategies to produce the results you are hoping for. I am attorney Michael A. O'Hara, and I am licensed to practice in Kentucky and Ohio at the state level, as well as in Federal District Court and the Federal Court of Claims. I have been representing clients in the Northern Kentucky/Greater Cincinnati area since 1994.