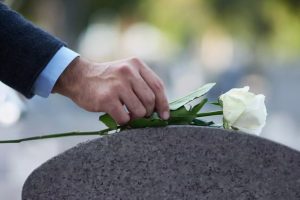 Losing someone you love is hard enough but losing them as a result of the negligent, careless, or intentional actions of another person is even harder. You can't help but constantly think that their death could have been prevented. If you have lost someone under these circumstances, you could be able to file a wrongful death claim in order to receive some closure and secure compensation for your loss. Although a wrongful death claim is not going to undo what happened, it can help provide some peace to relatives. The following will discuss the steps for filing a wrongful death lawsuit in the Commonwealth of Kentucky.
What Are The Most Common Causes Of Wrongful Deaths?
Wrongful deaths under Kentucky law occur when the death of a person happens due to an injury inflicted by the wrongful act or negligence of another person.
There are several ways that these can occur, some of the more common cases include, but are not limited to, the following:
Car Accidents
Motorcycle Accidents
Commercial Truck (Semi) Accidents
Bicycle Accidents
Pedestrian Accidents
Dangerous Medications
Harmful Products or Devices
Medical Mistakes
Injuries at Birth
Workplace incidents
Premises Liability incidents
While this list includes the more common wrongful death claims, it is not all inclusive. There are other situations that occur resulting in a wrongful death. We highly recommend reaching out to an experienced wrongful death lawyer that can help you create an action plan for your particular situation.
Are You Able To File A Claim?
If you are trying to understand how to file a wrongful death lawsuit in the commonwealth of Kentucky, we encourage you to work with a skilled attorney. An attorney will be able to help you determine if you have a viable wrongful death claim and whether or not you can personally file the lawsuit as presented. Per Kentucky law, the personal representative of the deceased's state is responsible for filing the wrongful death claim the majority of the time. If there is not a personal representative in place, or if the person passed without a will, the court will appoint a person to serve as the personal representative. In many situations, the personal representative of the deceased's estate is a close relative, however this is not always the case. Any damages that are awarded on a successful wrongful death claim are intended to compensate the estate and surviving family members for their loss(es). The deceased's estate will receive adequate compensation for: attorney fees, administrative costs, as well as funeral expenses. Surviving relatives are then able to keep the remaining funds awarded in the case.
How Can You Benefit From Hiring A Wrongful Death Attorney?
If you have lost someone you loved as the direct result of someone else's careless or negligent actions, this includes businesses or other entities, you and your family could be entitled to compensation. An experienced wrongful death lawyer in the Commonwealth of Kentucky will be able to provide you with the assistance necessary to navigate through this difficult process.Your attorney is able to help you understand your legal options. They can also ensure that your claim is filed on time in civil court and that a thorough investigation is completed into the cause of death. Your attorney will not hesitate to take on those aggressive insurance carriers and at-fault parties– and they will be adequately prepared for a trial if needed. The primary goal of your personal injury lawyer when working a wrongful death claim, is to make sure relatives and the estate of the deceased retrieve the compensation that they are rightfully entitled to– and they will do everything they can to ensure this happens.
Contact (859-746-0500) Michael O'Hara, PLLC for a Consultation
—
About Michael A. O'Hara, PLLC
When you have to deal with the justice system – whether related to a civil or criminal matter – you need more than the truth on your side. You need a skilled attorney who can employ sound legal strategies to produce the results you are hoping for. I am attorney Michael A. O'Hara, and I am licensed to practice in Kentucky and Ohio at the state level, as well as in Federal District Court and the Federal Court of Claims. I have been representing clients in the Northern Kentucky/Greater Cincinnati area since 1994.